Full Lace Wig Application
Learn the art of fitting and custom ordering the very popular full lace wig. For many years, lace front wigs and full lace wigs have been in use with major celebrities like Oprah Winfrey, Beyoncé, Kim Kardashian, Kylie Jenner amongst others.
Unlike conventional wigs, full lace wigs have invisible hairlines that look like hair growing directly from the scalp and also can easily be parted in any direction. You can style the wig like you do to your natural hair and wear it in a high ponytail if desired. The application works best to replace hair and also does well for clients suffering from hair loss.
Course content
Full lace wigs are advantageous for the fact that they are versatile. Every strand is woven by hand to the base made of lace which means the wig has no feature parting lines defined. This offers the choice of having the hair as a ponytail or even switch up the parting.

How to prepare the hair of clients to apply the full lace wig

How to correctly measure the head of the client and how to mark and position the wig

How to clean the full lace wig

How the wig is correctly fitted and safely removed

How to apply hair replacement tape and bond

The ordering of full lace wigs and suppliers details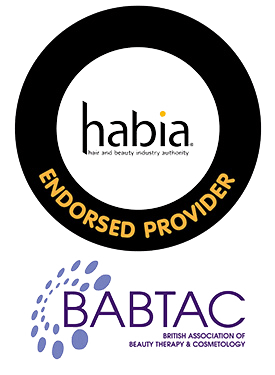 Course Accreditation: Habia CPD approved
Course Delivery: Practical & Theory
Duration: 1 - 2 days (flexible dates available)
Time: 10:30am – 4:00pm
Material: Kit contents (kit which includes a 14-16 inch full lace virgin human hair wig)
Cost: £700 (one to one) £550 each for (2 students)
Finance available (ask us about finance for the course)

This course ideally requires a model. If you are not knowledgeable of cornrow braiding, you will be required to complete the 2-day course. This is because a part of fitting the wig requires cornrow foundation as a step.
Note: Cornrow is not advised for clients with hair loss; it is only required for clients with normal hair who would like the full lace wig.
Full Lace wig application
Full lace wigs are made from French lace or Swiss lace and every hair strand is ventilated into the foundation which produces a natural finish. This type of wig covers the entire head, and can be worn either with a wig cap, or the natural hair cornrowed to form a base to give the clients hair a flat foundation for wig application. For completely bald clients, this is the best solution. Cancer patients also benefit greatly since the wig is very lightweight when applied to the head.